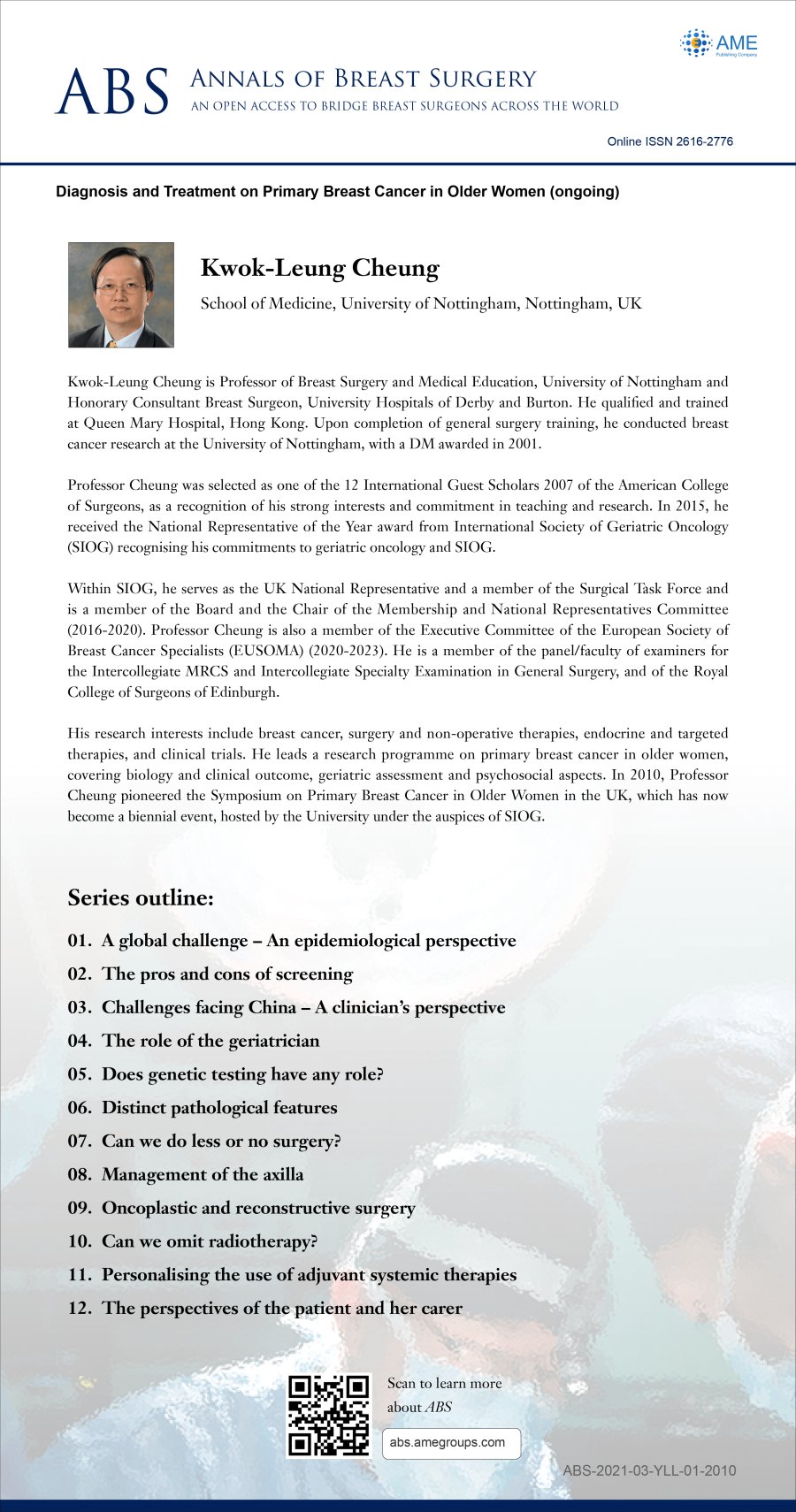 This series on Diagnosis and Treatment on Primary Breast Cancer in Older Women (Ongoing) is edited by Dr. Kwok-Leung Cheung from School of Medicine, University of Nottingham, Nottingham, UK.
Kwok-Leung Cheung
School of Medicine, University of Nottingham, Nottingham, UK
Kwok-Leung Cheung is Professor of Breast Surgery and Medical Education, University of Nottingham and Honorary Consultant Breast Surgeon, University Hospitals of Derby and Burton. He qualified and trained at Queen Mary Hospital, Hong Kong. Upon completion of general surgery training, he conducted breast cancer research at the University of Nottingham, with a DM awarded in 2001.
Professor Cheung was selected as one of the 12 International Guest Scholars 2007 of the American College of Surgeons, as a recognition of his strong interests and commitment in teaching and research. In 2015, he received the National Representative of the Year award from International Society of Geriatric Oncology (SIOG) recognising his commitments to geriatric oncology and SIOG.
Within SIOG, he serves as the UK National Representative and a member of the Surgical Task Force and is a member of the Board and the Chair of the Membership and National Representatives Committee (2016-2020). Professor Cheung is also a member of the Executive Committee of the European Society of Breast Cancer Specialists (EUSOMA) (2020-2023). He is a member of the panel/faculty of examiners for the Intercollegiate MRCS and Intercollegiate Specialty Examination in General Surgery, and of the Royal College of Surgeons of Edinburgh.
His research interests include breast cancer, surgery and non-operative therapies, endocrine and targeted therapies, and clinical trials. He leads a research programme on primary breast cancer in older women, covering biology and clinical outcome, geriatric assessment and psychosocial aspects. In 2010, Professor Cheung pioneered the Symposium on Primary Breast Cancer in Older Women in the UK, which has now become a biennial event, hosted by the University under the auspices of SIOG.
Series outline:
A global challenge – An epidemiological perspective
The pros and cons of screening
Challenges facing China – A clinician's perspective
The role of the geriatrician
Does genetic testing have any role?
Distinct pathological features
Can we do less or no surgery?
Management of the axilla
Oncoplastic and reconstructive surgery
Can we omit radiotherapy?
Personalising the use of adjuvant systemic therapies
The perspectives of the patient and her carer
Disclosure:
The series "Diagnosis and Treatment on Primary Breast Cancer in Older Women" was commissioned by the editorial office, Annals of Breast Surgery without any sponsorship or funding. Dr. Kwok-Leung Cheung is serving as the unpaid Guest Editor for the series.