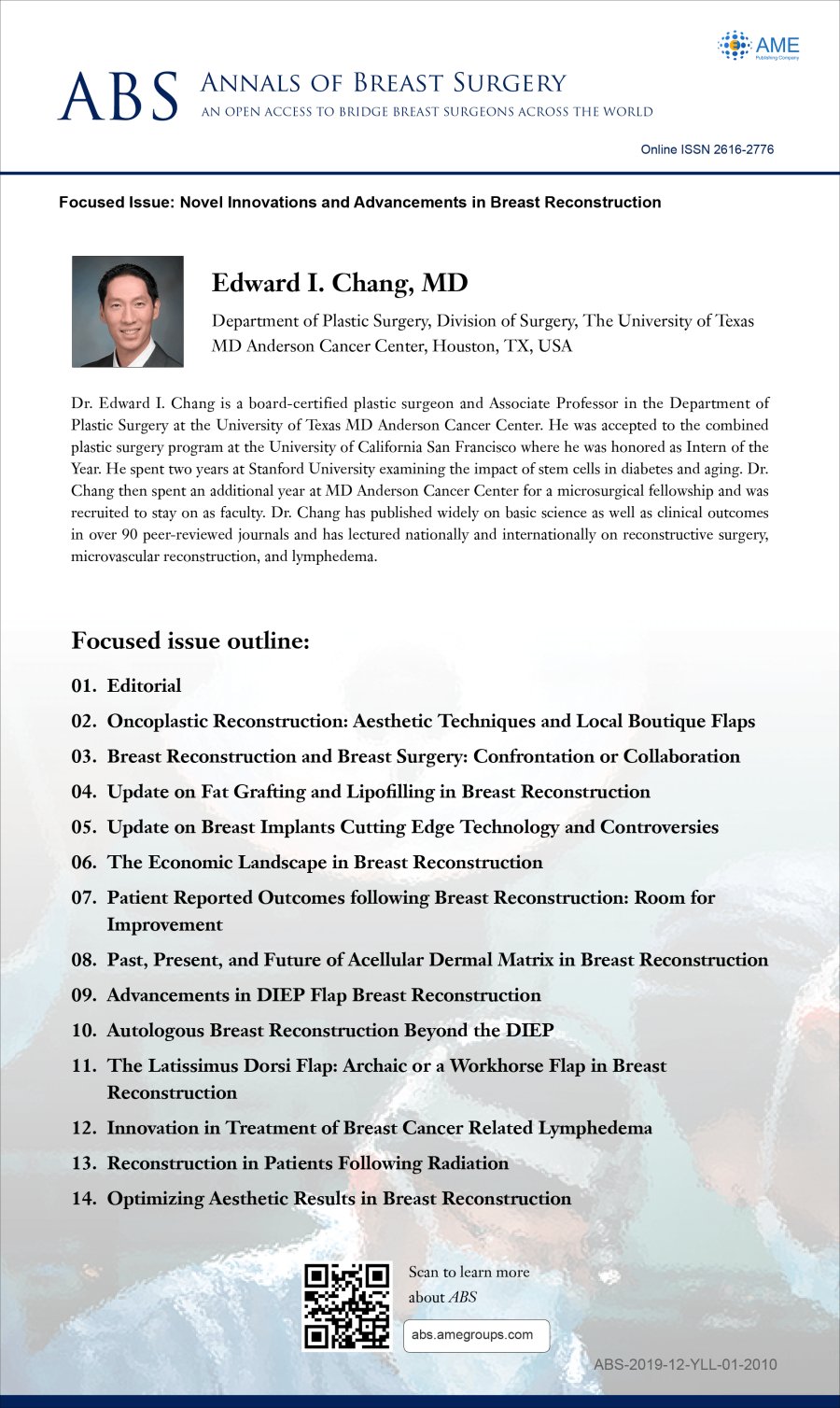 This Focused Issue on "Novel Innovations and Advancements in Breast Reconstruction" is edited by Dr. Edward I. Chang from Department of Plastic Surgery, Division of Surgery, The University of Texas MD Anderson Cancer Center, Houston, TX, USA
Dr. Edward I. Chang is a board-certified plastic surgeon and Associate Professor in the Department of Plastic Surgery at the University of Texas MD Anderson Cancer Center. He was accepted to the combined plastic surgery program at the University of California San Francisco where he was honored as Intern of the Year. He spent two years at Stanford University examining the impact of stem cells in diabetes and aging. Dr. Chang then spent an additional year at MD Anderson Cancer Center for a microsurgical fellowship and was recruited to stay on as faculty. Dr. Chang has published widely on basic science as well as clinical outcomes in over 90 peer-reviewed journals and has lectured nationally and internationally on reconstructive surgery, microvascular reconstruction, and lymphedema.
Focused issue outline:
Editorial
Oncoplastic Reconstruction: Aesthetic Techniques and Local Boutique Flaps
Breast Reconstruction and Breast Surgery: Confrontation or Collaboration
Update on Fat Grafting and Lipofilling in Breast Reconstruction
Update on Breast Implants Cutting Edge Technology and Controversies
The Economic Landscape in Breast Reconstruction
Patient Reported Outcomes following Breast Reconstruction: Room for Improvement
Past, Present, and Future of Acellular Dermal Matrix in Breast Reconstruction
Advancements in DIEP Flap Breast Reconstruction
Autologous Breast Reconstruction Beyond the DIEP
The Latissimus Dorsi Flap: Archaic or a Workhorse Flap in Breast Reconstruction
Innovation in Treatment of Breast Cancer Related Lymphedema
Reconstruction in Patients Following Radiation
Optimizing Aesthetic Results in Breast Reconstruction
Disclosure:
The series "Novel Innovations and Advancements in Breast Reconstruction" was commissioned by the editorial office, Annals of Breast Surgery without any sponsorship or funding. Dr. Edward I. Chang is serving as the unpaid Guest Editor for the series.