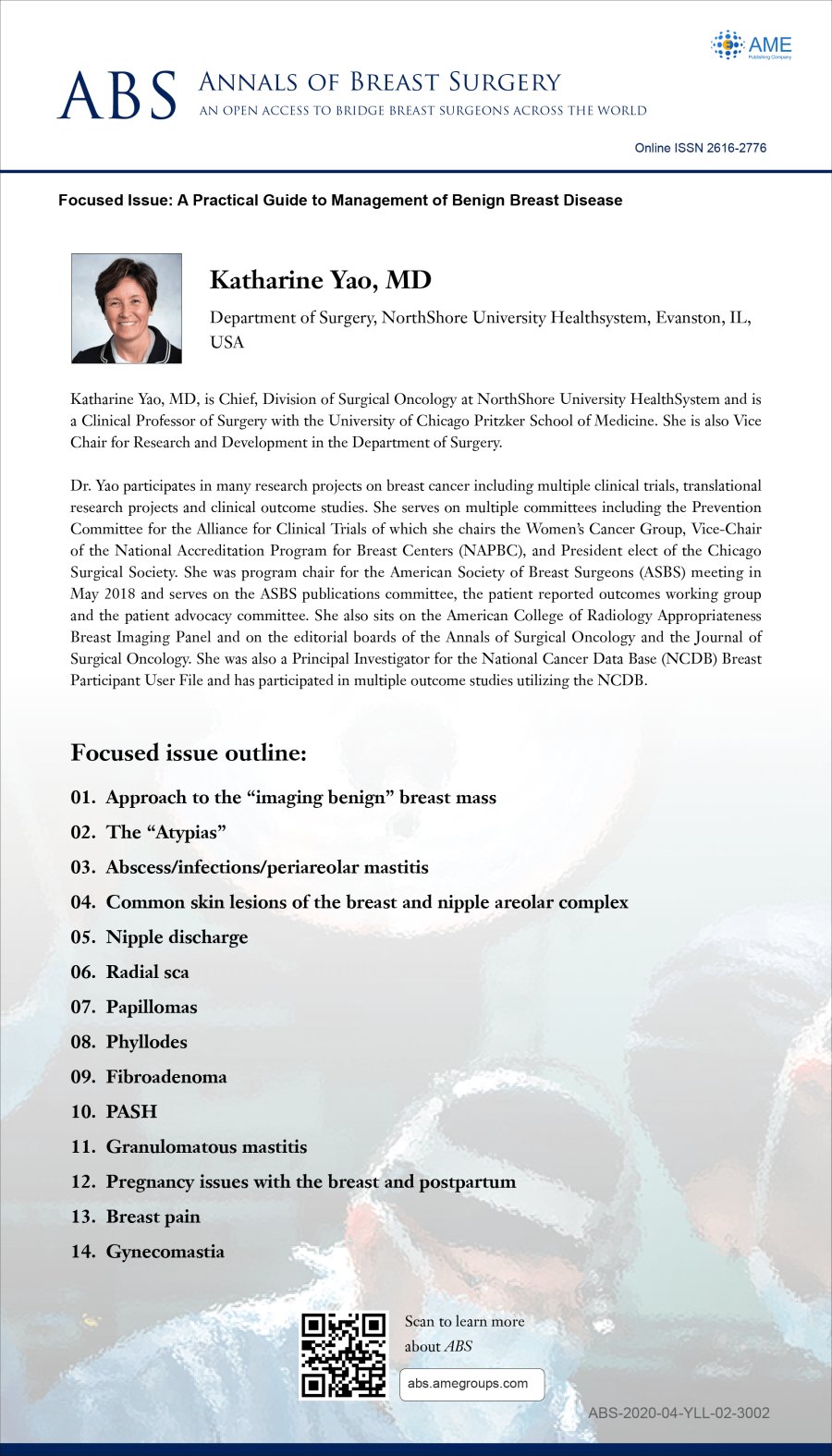 This Focused Issue "A Practical Guide to Management of Benign Breast Disease" is edited by Prof. Katharine Yao from Department of Surgery, NorthShore University Healthsystem, Evanston, IL, USA.
Katharine Yao, MD, is Chief, Division of Surgical Oncology at NorthShore University HealthSystem and is a Clinical Professor of Surgery with the University of Chicago Pritzker School of Medicine. She is also Vice Chair for Research and Development in the Department of Surgery.
Dr. Yao participates in many research projects on breast cancer including multiple clinical trials, translational research projects and clinical outcome studies. She serves on multiple committees including the Prevention Committee for the Alliance for Clinical Trials of which she chairs the Women's Cancer Group, Vice-Chair of the National Accreditation Program for Breast Centers (NAPBC), and President elect of the Chicago Surgical Society. She was program chair for the American Society of Breast Surgeons (ASBS) meeting in May 2018 and serves on the ASBS publications committee, the patient reported outcomes working group and the patient advocacy committee. She also sits on the American College of Radiology Appropriateness Breast Imaging Panel and on the editorial boards of the Annals of Surgical Oncology and the Journal of Surgical Oncology. She was also a Principal Investigator for the National Cancer Data Base (NCDB) Breast Participant User File and has participated in multiple outcome studies utilizing the NCDB.
Focused issue outline:
Approach to the "imaging benign" breast mass
The "Atypias"
Abscess/infections/periareolar mastitis
Common skin lesions of the breast and nipple areolar complex
Nipple discharge
Radial sca
Papillomas
Phyllodes
Fibroadenoma
PASH
Granulomatous mastitis
Pregnancy issues with the breast and postpartum
Breast pain
Gynecomastia
Disclosure:
The series "A Practical Guide to Management of Benign Breast Disease" was commissioned by the editorial office, Annals of Breast Surgery without any sponsorship or funding. Dr. Katharine Yao is serving as the unpaid Guest Editor for the series.